Roller Hockey
As most people around me know, I play roller hockey down by the White House, and have done so since 1999. Below are some pictures of the game. Our group has been the subject of various media reports as well, links are also below: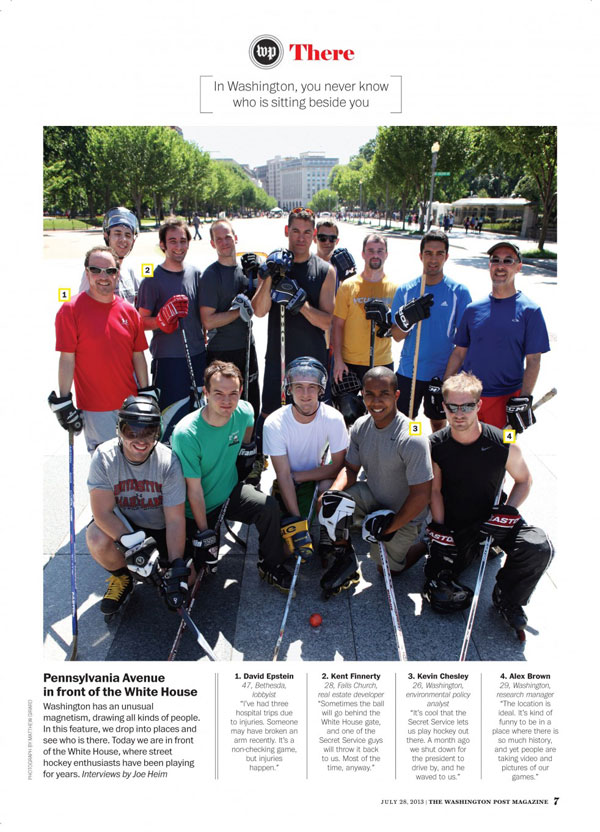 In July 2013, the Washington Post Magazine had a photo of our group, as part of the "There" photocolumn, about people doing things around D.C. I am in the red shirt on the left. Click here to see a full size image.
Grand Magazine, a 'lifestyle' publication in Ontario Canada, has done a story about hockey in DC, and part of the story was about our game. Here is a PDF of the story. I am in the photo on the first page of the story, and am interviewed on the second page. Four of the photos taken by the photographer are below.
The Voice of America has done a story about our group. There is a video on Youtube and a print story on the VOA website. I'm not sure why the print story can't link to the video, or why the video can't be hosted on the VOA website. It may have something to do with the fact that the VOA is forbidden from broadcasting in the United States.
ABC News. This has been given to ABC affiliates, and is on their website. It may or may not end up being aired on Good Morning America. I am featured and interviewed. The print story is here. I am quoted by name.
Washington Post July 7, 2009. I wasn't quoted by name, but I was the source for much of what was written, and I am in the photo that shows up on the story page.
Washington Post Express, July 2008. As you can see, I was quoted twice in this story.
Taken by the Grand Magazine photographer.
Here is Kevin Glenn losing the ball as he and I are on a two-on-none breakaway.